Our new best friends over at Touchstone Books (a Division of Simon & Schuster) have given us three copies of the new Freddie Mercury biography. More information about the book is below the fold. To win a brand new copy of your very own simply comment with a link to an image of a music-related personality that rocks the cop 'stache as well as or better than the late great Freddie Mercury. It's just that easy.
ENTRIES MUST BE RECEIVED BY 11:59 PM, THURSDAY, SEPTEMBER 13, 2012.
Here are some real cop 'staches for guidance.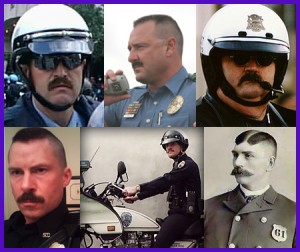 For what it's worth, according to the pros over at Mustache Summer.
The Police Departments in Los Angeles and elsewhere have a Dress Code for their officers, which details how an officer is to present himself. One of the areas covered is facial hair, which is only allowed in the form of a mustache, and cannot extend below the corner of the mouth. If a police officer wants to grow whiskers, he must grow a 'stache. That mustachio'd cop on the corner may be burning for a goatee or a Soul Patch, but departmental regulations help keep him from making a horrible mistake.
Also, to ensure complete objectivity in judging, we have enlisted a celebrity to make the calls. Our guest judge is…