RTH: I've got …Tick…Tick…Tick and it rocks. The cover does though bring us back to the continuing Velvet Underground connection: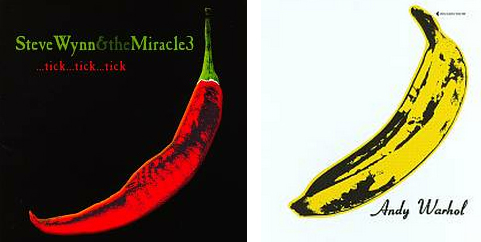 Intentional I'm assuming? Is there a story here?
SW: Oh my. That IS similar. I had NO idea. Ha ha–just kidding. Though it was no big deal. I was just having some fun and making a sly nod to my past and also an homage to Tucson, which had been so important to me at the time.
RTH: To Allmusic.com's credit they don't mention VU at all in their review. They do though make comparisons to Television.  Is the Television comparison apt in your opinion? Are you a Television fan? Marquee Moon at least…
https://www.rocktownhall.com/blogs/wp-content/uploads/2012/06/NoTomorrow.flv
We've interviewed Richard Lloyd twice…
…but have yet to interview any living VU members though I'd wager Doug Yule is gettable.
SW: Oh yeah. I mean, I don't get all that many VU comparisons these days. But the Miracle 3 and I, in particular, gets compared a lot to Television. And that's very fair. I think that Television and Neil Young and Crazy Horse are the perfect definition of the classic 2 guitars, bass, drums rock band. And I'd like to think that The Dream Syndicate and most definitely SWM3 fit into that legacy. I'll have to check out your review with Richard. We had a great tour together 10 years ago. The guy can play, that's for sure.
RTH: Where does the name Miracle 3 come from? It makes me think of Robyn Hitcock's recent work with The Venus 3 and The Minus 5, which also includes Peter Buck and Scott McCaughey. You guys trying to start a new movement hear or something? I could call it The Paisley 3 movement or something…
SW: I think that the Miracle 3 predates the Venus 3, but follows 3 Mustaphas 3 and the Three Stooges. We were going on tour for Here Come The Miracles and I just felt that I wanted a band name since it felt less like a singer/songwriter tour than anything I had done. I had to think of something quickly and that seemed very obvious. I had this idea that I would change the backing band name for each record that followed but Miracle 3 just kind of stuck. It does actually sound pretty good, even 11 years later (!)