RTH: Prior to The Dream Syndicate you were in at least two bands, The Suspects and 15 Minutes. Are there any recordings out there of these bands?
SW: Each band (well, 15 Minutes was just me, for the most part) had a single. Good luck finding them!
[ed: found one, above, I think]
RTH: When I search Wikipedia for "Steve Wynn" it takes me here first: http://en.wikipedia.org/wiki/Steve_Wynn. How do you feel about that? There's actually a huge discography on your page http://en.wikipedia.org/wiki/Steve_Wynn_(songwriter) that is a testament to your ongoing creativity and fan support.
SW: Nothing to say about that other dude aside from I can't think of many people who are more different in every way from me. But I'm very proud that I've lasted this long, made so many records that I'm proud of and that so many people have come along for the ride. Really, it's all way beyond anything I could have imagined when I was 21 and finished mixing The Days of Wine and Roses at 8:00 am, just in time to drive back and start my shift at the record store (Rhino!) where I worked.
RTH: I could ask loads more but The Dodgers are now tied in the bottom of the 5th and they need my full rooting support. I hope to catch you live when you're in the L.A. Area again. Is Club Lingerie still around? I think I saw you there circa Dazzling Display.
SW: The Club Lingerie is long gone but you can see Amoeba Records from where it once stood…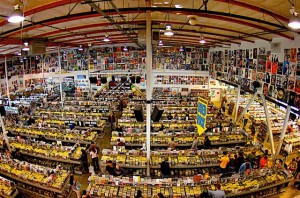 …the same way you can see the former site of CBGBs from where we're going to play tonight–the Bowery Electric–in NYC.  I've enjoyed our chat.  And I hope everyone will come out to the show on Saturday.
You can go here, http://northstarbar.com to more info and buy tickets.
Also, you can check out all about Steve and buy his stuff on his website here http://www.stevewynn.net.
And his Facebook page is here http://www.facebook.com/stevewynn. Be polite! You're representin'.