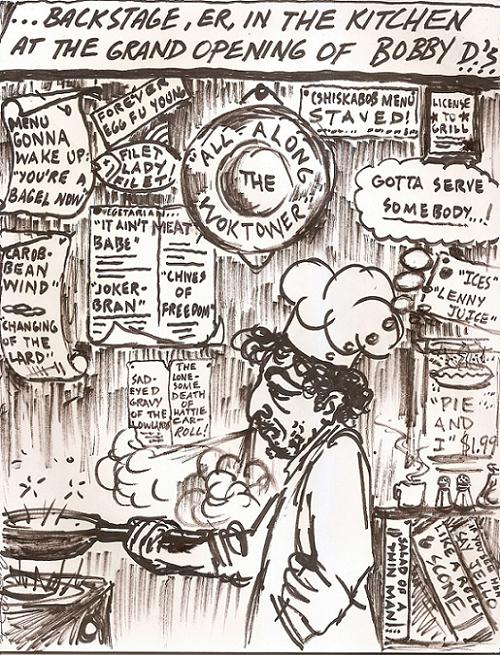 (Image from Rock Is Dead, but it Won't Lie Down)
RTH: Would you have taken Bob Dylan for a banana pudding lover? Your story of serving him banana pudding only after he'd sign a special wall in the venue where he was playing is a lot of fun.
Penny: Oh, banana pudding was a regular dessert that we made often. It was always a favorite with everyone. No, I didn't take Bob Dylan for a banana pudding kind of guy, but I never really wondered about his eating habits at all before that experience. He was such a regular guy and loved the home cooking we did rather than the opportunity to go out to some nice restaurant to be wined and dined. I liked his presence immensely.
RTH: Your website has an impressive list of artist you've served. Who were some of your favorites to work with?
Penny: My favorites were probably Sting and Bonnie Raitt, and I fed them over and over. I always enjoyed doing shows with James Taylor, Neil Young, and Pink Floyd, they were all laid back and easy to please, surrounded themselves with nice people. But Sting and Bonnie I got to know and had personal relationships with, at least as personal as you can get with famous people. What I learned about rock stars was that they would tell you how good a friend you were to them while they were there, but as soon as they moved on to the next town, they were on to their next best friend. Out of site, out of mind. I was always a little disappointed about that. I wanted to think that my friendship with them was memorable, but how could it be? They interacted with thousands of people in hundreds of cities and towns. Fame is a very interesting thing. I don't envy those people, it's a hard life and you've got to really want that kind of attention to live with it.
I'd like to ask you a few questions about your rock catering practices. In my humble experiences as an amateur musician I've only been fed by the venue in which my band played a couple of times, and no one ever served me banana pudding! Here goes:
RTH: What was the typical day of a rock 'n roll caterer like? Did artists typically eat before or after sound check? Did you also serve the road crew and hangers-on?
Penny: Well, to be accurate, a typical day starts several days ahead of time. There is so much preparation that goes into a show, it's unbelievable. Buying groceries, cases of sodas, bottled water, untold amounts of liquor, juices, table linens from the linen service, giant bags of ice, paper products like plates, cups, plastic ware. The list goes on and on.
But to get back to the original question, a typical day starts at 7:00 or 8:00 am, whenever the morning call is, could be earlier. Load-in begins. Hot and cold breakfast for the road crew and the local stage hands goes on until around 10:00 am or so. In the meantime, you're working on lunch. Deli trays, salads, soup, breads, fruits, sometimes a hot entree. That is served up around noon to 1:00 pm for the road crew and local hands and anyone else who has shown up. It stays up until 2:00 pm or so.
Keep in mind that some of these venues have a kitchen area to work out of, but most don't. You can be set up in a hallway, tunnel, bathroom, some small room that is not in use, just about anything you can think of. I seldom had a real kitchen set-up, so it was like setting up camp.
While lunch is being served, you are now working on dinner and dressing rooms. The band usually arrives at the venue between 3:00 and 4:00 pm and soundcheck ensues shortly thereafter. So dressing rooms have to be ready. Dressing rooms for the main artist, the band, the opening act, horn section, backup singers, whatever is required. In each of those rooms coolers and bus tubs full of iced drinks. Coffee and tea set-ups, veggie and cheese trays, hot appetizers, bottles of wine, liquor, seltzers, sodas, etc. Whatever other outrageous things the artists want.
Dinner is usually served at 5:30 or 6:00 pm. All these meals have to be precisely on time, because of union demands and the show schedule. Dinner is the biggest meal of the day and the real dishes and silverware come out and the table linens. No holds barred. There are usually several hot entrees, many salads and side dishes all served up in big steam tables. Desserts, drinks, coffee, tea, bottled water, you name it. Dinner goes on for at least a couple of hours, so that band, road crew, stagehands, managers, guests, can all come and partake when they are able.
There are also usually drinks that go in strategic places on or around the stage, at the sound and light mixing board, and in the production, accounting, and management offices. When the band goes on stage, then you go into their dressing rooms and tidy up, emptying excess water out of bus tubs, re-icing, fluffing up the food trays, clearing trash and anything else that needs tending to. Sometimes you get to sneak out front for a few minutes to see a bit of the show, but you can't stay long because you have to start cleaning up dinner, wash dishes and dirty pots and pans and then start getting the food and drinks ready for the buses.
Yes, you heard me right. After food being served continuously all day long, now there is some kind of carry out food (that you have to go buy) delivered to the buses for the road crew to eat after load-out and their showers, when they get back on the road to the next venue. Not only food, but cases of beers, water, sodas, and juices. Sometimes there are a dozen buses who all want that much food.
Once the show is over and the band leaves the building, then you have to go in and clean up all the dressing rooms and start putting all this stuff back into boxes and coolers to load back out of the building. Along with all the kitchen set-up and all the leftover supplies and food. And if it's winter, this can all be taking place in the worst kind of weather, freezing rain or snow.
You're lucky to have this all done by 2:00 am or later. You keep a giant urn of coffee going for all the stagehands who have returned after the show to break down the stage and maybe some snack food for them. Sometimes you have to supply dozens of towels for the crew to use to take showers at the end of load-out and you have to round the wet dirty towels all back up to return to the linen service. If you leave the building and get home by 3:00 am, unless you have a heated garage to drive your catering truck into, then you've got to unload perishable items or things you don't want to freeze back into your kitchen at home and put it all away.
By now, your body can't move anymore, but your mind won't stop. You have to unwind by smoking a little pot and letting yourself gradually fall asleep. The next day you can barely walk.
That pretty much sums it up, but can vary greatly from gig to gig.
To answer your other question, I guess I'd have to say as a rule the artists usually ate something before the show. Some would want to wait until after the show and we'd have to have a full sit-down meal for them in their dressing room when they came off the stage. Van Halen asked for that on one tour. Sting would ask for a chicken or turkey sandwich after the show to be brought to him. Once when I did a Tom Petty show, Mike Campbell and Stan Lynch asked if I would save them some meat loaf for after the show. They said it smelled and looked great to them, but they just couldn't eat it before the show. So I kept it warm for them and they rushed right from the stage to the kitchen to get some. Stan Lynch said he thought about it all through the show.
RTH: Did you typically offer a set menu each night; did artists order off a small variety of dishes, as in a cafeteria or at a wedding; or did artists, via their management, dictate what you prepared in their contract with the venue?
Penny: Oh no, I never got to speak directly to the artists. They have a bevy of people that surround them to take care of their every whim. The shows were usually advanced with the road manager or dressing room assistant. Sometimes I would speak to someone from their entourage several times over a period of a few weeks, firming up arrangements, depending on how big and important the band was at the time. But then it could all change at a moments notice. The trick was to be very flexible and always expect everything to change.
Some had very specific requests. If they wanted something at the spur of the moment, we would try to accommodate them. The shows were usually advanced with the road manager or dressing room assistant. Sometimes I would speak to someone from their entourage several times over a period of a few weeks, firming up arrangements, depending on how big and important the band was at the time. For instance, once when I did a Springsteen show, Max Weinberg requested spaghetti sauce and pasta be kept warm in the dressing room at a certain temperature while he was onstage. It was supposed to be ready for him when he came off. I went to a lot of trouble and stress to make sure that happened and then he didn't touch a thing. That was always my biggest pet peeve. I thought someone should be updating that rider constantly to see what they were tired of and change things up. It was such a waste of food. The other thing was that everything could all change at a moments notice. The trick was to be very flexible and not be surprised if they wanted to change something at the last minute. And sometimes it was beyond your control to be able to get what they wanted.
That'll teach him!
RTH: Once it was the day of the show how much personal contact did you have with the artists?
Penny: Oh, I had lots of personal contact with the stars. Once they arrived at the venue, I introduced myself and my crew to them and made myself available. I loved talking to them and I treated them like regular people. The kitchen and dining room areas were the heart of the backstage. The artists were drawn there just like their Mom's kitchen at home. They felt comforted there from the hardship of the road. Sometimes they would wander in, looking for something to munch on and end up telling me their stories or asking me about Kansas City. Sometimes my kids would be there and they would interact with them. It made them feel normal for awhile. And I loved seeing what made them tick, what these people were like that created this music I loved so much.
RTH: Did you receive any memorable compliments?
Penny: Well, let's see. Besides people thanking me for the great care they were given while they were in town, Sting was a real sweetheart and told me once when I introduced him to my young daughter that she was pretty like me. And I always felt it was a compliment when someone would dedicate a song to me on stage. Ray Davies was a very sweet man and dedicated a song to me. Bonnie Raitt has dedicated songs to me and my husband three different times, telling us that we were one of her favorite couples.
NEXT: And you thought the M&Ms' story said it all?