RTH: Conversely, did any artist complain or otherwise make your work difficult?
Penny: Oh, yes… Some shows were miserable to do. I dreaded Van Halen every time they came to town. It wasn't the band itself that was bad to deal with, but their roadies and management. They loved making a day hard on everyone. I had many a distressful 24 hours trying to make them happy. Rush was another one. Both these bands had dressing room guys who were the worst. Plus, there was a guy that worked for AC/DC and Metallica who loved to throw fits. And drugs didn't help their dispositions either.
RTH: You worked with Van Halen! Did your staff have to pick out certain-colored M&Ms, or was that someone else's job? If you worked with them, did they have any other ridiculous rules about what couldn't be served, such as no left chicken wings or no inner leaves of lettuce?
Penny: Well, let's see. The first time I did Van Halen, they asked for something that was more bizarre than the M&M's. The rider said they wanted "Coney Island Whitefish." I'd never heard of that, but I was an inland girl and just figured it was some kind of fish I wasn't aware of. When I asked the promoter about it, he said it was referring to condoms. I was shocked. I said, "You mean they want me to get rubbers for their dressing room?" The promoter said, "Not just rubbers laid around in packages, they want you to take them out of the wrappers and decorate with them. Be creative." I thought it was ridiculous, but I was learning that was rock and roll. So, what we did was hang the condoms from some very expensive flower arrangements that they wanted in their dressing room. The arrangements were contemporary and had branches from trees sticking out of them, so we hung the condoms on the branches like xmas tree ornaments. Plus, we blew some of them up like balloons. I think they were amused.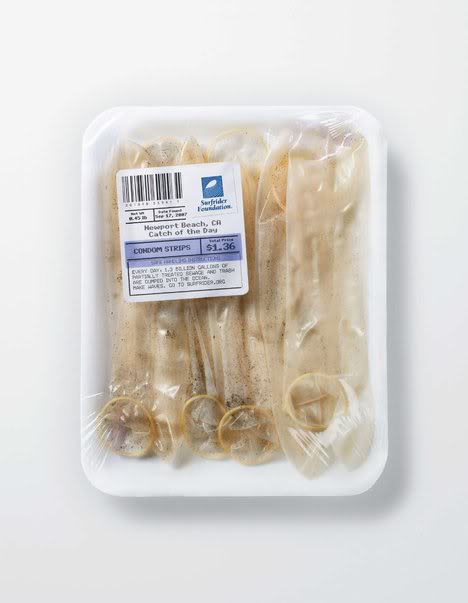 Catch of the day!
RTH: What was it like feeding Michael Jackson and his crew?
Penny: Well, you're going to have to wait until I do the story on that one. I just can't encapsulate it here. What I will tell you is that he started the second leg of the tour in Kansas City again, after being in Japan and Australia. There was something about him wanting to start his tours in KC, I don't know why, maybe because it was the middle of the country. It was Feb. 23 & 24, 1988. I had just hired a new crew and they were broken in at Michael Jackson. It was a very high-profile event and each night was sold out to 17,000 people. He was slipped in and out of the venue and none of us really laid eyes on him. Sheryl Crowe was his unknown back-up singer and she was from this area, so she had lots of family around. The most fun for me and my crew was watching him rehearse during the day. Seeing his movie, This Is It reminded me a lot of my experience with him. Just watching him putting it together on stage, but not ever interacting with him personally.
RTH: You've noted that drugs were a free-flowing part of late-'70s rock culture. Did anyone ever request that you prepare hash brownies or Neil Young's recipe for honey slides?
NEXT: Perhaps this interview's most shocking revelation!