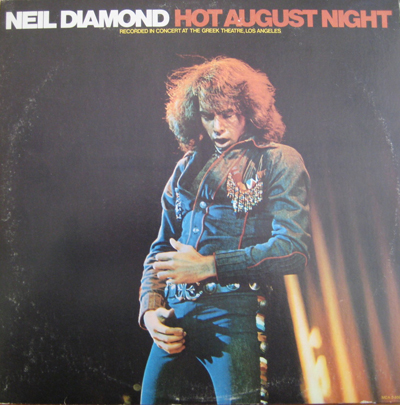 Diamond demonstrates how he holds his yard-long bong!
Penny: Funny you should ask that. The only artist who ever requested "special" brownies was Neil Diamond. That always cracked me up. No one else ever just blatantly asked me to do it. Of all the rockers, who would have imagined Neil Diamond?
RTH: What was your most embarrassing moment as a caterer, such as spilling food on a performer or whatever?
Penny: Well, I guess that would have been when I was doing a Michael Jackson gig. The dining room was full and I was carrying a platter of food across the room to the serving table and I stepped on something slippery and started to do the splits. As I thought I was going down and food would be everywhere a helping hand suddenly came out of nowhere and helped me get my balance. It was Nico Brando, the son of Marlon Brando, who traveled with MJ and was his right hand man. Everyone applauded. He was very sweet and gracious and my hero for the day.
RTH: Were there foods that you typically avoided (or recommended against) serving because they may not have been conducive to performing?
Penny: The road manager doing the advance work usually knew what foods to avoid. When they would call me to advance a show, we would thoroughly discuss the menu selection and they would ask what my specialties were. My specialty was a full turkey dinner with all the trimmings and that was always a big hit. We fixed meat loaf a lot, and smoked chicken was a favorite.
RTH: Did you ever think that an artist's taste in food especially aligned with his or her musical persona? Conversely, did you ever come across an artist whose taste in food ran counter to what you would have expected based on their music? For instance, I'd be shocked to learn that Sting requested ribs or that ZZ Top requested a vegan meal.
Penny: Ha! I'm trying to think where that might be true. Kansas City is known for its barbeque, so just about everyone who ever came here was looking forward to that, whether it be Sting or ZZ Top. We served it a lot.
Penny today.
RTH: You are out of the catering business. Do you miss it? Do you stay in touch with any of the artists you've served? What are you up to these days?
Penny: Well, this question is a real double-edged sword. Sometimes I do miss it terribly. I was really in my element in that atmosphere; I thrived in it. It fit my personality so well. I felt it was a magical environment that I got to be part of. There were no rules, it was all being made up as it went along. But as time went by the corruption and excesses became unbearable. I couldn't justify all the decadence and wastefulness. I couldn't be in that environment anymore, I was outgrowing it spiritually and I couldn't keep taking all the physical abuse to my body. My current husband came along in '87 and worked with me for awhile, but finally convinced me that it was a hellish environment. And I certainly wasn't making any money at it. I was known as the most reasonable caterer in the country because I wasn't charging as much as anyone else. I just wanted to be around the music.
When I finally decided to leave it in '89, it was right at the time The Rolling Stones were going out on their big Steel Wheels tour and they were looking for a caterer to do their tour. I was finally in the position where I had a sterling reputation in the industry and could have expanded my company and gone into other markets, like St. Louis, Chicago, and New Orleans. But the Stones tour was completely over the top; their contract rider requirements were so outrageous I knew I couldn't handle it. I didn't want to handle it. It went to another woman who catered out of Indiana and I was relieved. I knew then that I had to get out while I was on top. So I turned it all over to a friend of mine and moved to a little town in Arkansas and started writing about it.
The upside is that since I've left it, I now get to enjoy it. I still know all the production guys that do all the really big tours, so when someone like The Police comes to town I get the royal treatment and get treated to great seats and I get to visit with my old friends on the crew and I don't have to do any of the hard work. I go there, watch the show, and come home to my cozy home.
Yes, I do run into people who I once fed and now that Facebook has come along I've reconnected with dozens of musicians who played with Billy Joel or Elton John or lots of others and we interact there. Facebook is an excellent tool for keeping that musical network alive. I have production managers that I knew and dressing room assistants or backup singers as my friends on Facebook, so I know what they are all up to and they know what I'm doing. It's quite interesting how technology has changed the industry.
So I do miss it, but it has evolved into another phase that I'm still experiencing. And that's why I started writing and creating my website to showcase some of my stories. I've written chapters and chapters of stories with the help of my husband and could put together several books. It's still my passion.
Now I've become a social media fanatic on Facebook and love networking and being the central hub of the wheel. Most people I've worked with through the years know they can count on me to keep them connected to who they may want to find. I take film footage at concerts and post them on my YouTube channel, and I also do a blog under the name of Rock and Roll Grandma, since I have a 10-year-old granddaughter whom I school in the ways of music. Fifteen years ago, I began studying herbs and aromatherapy and have created a line of body care products under the name of Penmark Potions. I just turned 60 and I realize I am still happiest going to concerts and listening to my favorite music, which includes Be/Non (my son's band) Mark Knopfler, Peter Gabriel, Don Henley, Joni Mitchell, Tori Amos, NIN, and many others.
NEXT: Penny sits down for some Dugout Chatter!