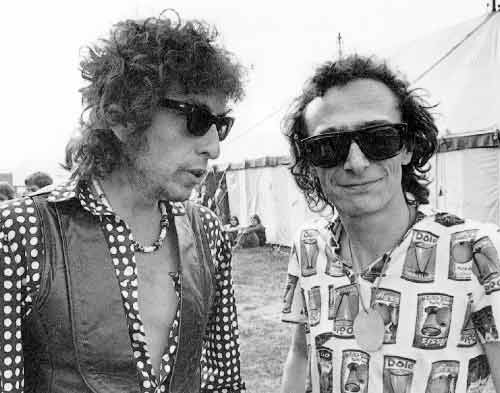 Smoke gets in your eyes
Ian Hunter is known for mystery-inducing shades, but I'm not sure how much cool he derived from them. His voice and hair did most of the cool work; I figured the shades were to hide weak, beady eyes. Graham Parker's shades raise similar suspicions: at first they seem cool, but then the light hits them at a certain angle – or he's pictured standing next to a truly cool wearer of shades – and you wonder what he's hiding.
New York Giants football coach Tom Coughlin doesn't allow his assistant coaches to wear sunglasses during training camp workouts in the hot August sun. You know why? He wants to be able to look 'em in the eye! Tom Coughlin's 2007-2008 New York Giants are about to play in this year's Super Bowl. Meanwhile, Graham Parker's working up yet another song about how the music industry's screwed him over.