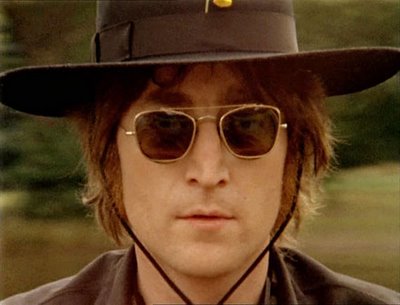 Known for his specs but at ease in shades
Over the years Lou Reed has tried to carry on the legacy he helped to establish in the VU. He's grown up in public wearing various styles of aviator shades, oversized pimp shades, gimmicky shades, David Sanborn shades, and recently, a direct set of VU Legacy Shades. Or is this last pair an attempt at paying homage to Bono? Bono's got his own shades thing going on, but I'd rather not deal with it.
Sometimes even the coolest concept for shades falls flat thanks to the uncoolness of the wearer of the shades. Mad Props to Roger McGuinn for his rectangular shades. Maybe more than his Rickenbacker guitar, those shades are largely responsible for the ever-growing legacy of The Byrds. Despite the power of these magic shades, McGuinn will never be cool. These shades have had a strong Legacy appeal through various '60s revivals. I believe in all cases the effort to attain coolness tanked.

You know, I never dug Bob Welch's smoked aviator shades, but Elvis wore some cool shades in his Vegas years. Better yet was the adoption of Elvis Shades by the likes of his more "square" contemporaries. How cool was '70s Carl Perkins in his Elvis Shades, pompadour rug, and thick sideburns? Not cool cool, mind you, but unintentionally pathetic cool. I'd say he made the shades his own. Around 1987 I found a pair of Perkins Shades. I still carry them around in my guitar bag, just waiting for the opportunity to be cool in that unintentionally pathetic way.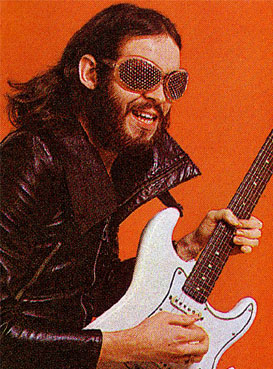 Holding out hope for rock's perfect union with shades