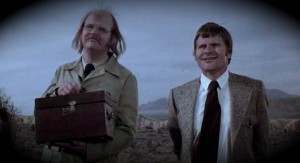 Ok, so every time I hear Steely Dan on the radio, I immediately think of Bond's Mr. Wint & Mr. Kidd. Maybe part of the reason is that I don't really know the "Band" — Fagen and Decker — other than small snatches I've seen of them — but their legend looms large in my mind.
On the surface, this is a band that I should not like a wit. Jazz Fusion! Studio musicians!! Odd vocal stylings. What gives?? Yet — although I don't OWN any SD — I like them when I hear them. And the solo for "Reelin' in the Years" by said studio axeman is one of my all-time faves.
By looming large, I mean I picture a studio teeming with '70s excesses — women in jumpsuits, coke, shag carpeting, etc.
So I probably won't be downloading and Steely Dan for the old iPod. But if I'm ever at some cool party, chock-full of modern, Eames-inspired furniture, and this is coming out of the Blaupunkt's, I'll nod my head and say, Yes…I can live with this.
I know most bands have a persona that is larger than life. But did Steely Dan ever try to cultivate it the way that, say Zeppelin did?
Should I break down and buy this band? Help …