When adults asked me what I wanted to be when I grew up, my answer was immediate: "A hippie." As I reached this career revelation my uncle had enough with his parents and split for a trip to Colorado. I vaguely recall a big scene with my grandmother crying uncontrollably and doors slamming as he left the house, it seemed, for good. He was wearing an Army jacket, which I'd never seen on anyone but my G.I. Joe figures until that time. I was a little worried about losing him while at the same time a little excited by the prospect of one day joining him.
After a couple weeks in the Rockies, my uncle returned home. He gave me his Army-issue sleeping bag to use on my first-ever camping trip. That bag, with real down stuffing and a troublesome zipper, was the coolest. I don't know what happened to the jacket.
The influence my uncle had on my interests in music and sports is core to who I am today. The time spent hanging in his bedroom listening to a 8-track tapes while he let me fingerpaint Day-Glo designs on wall space next to his stereo was like a trip to the Old Country. He gave me my first look at the world under black light. He had a collection of velvet and wildly patterned shirts, with massive collars and puffy sleeves. I couldn't wait to grow up and fit into those shirts.
He drove a pale yellow Buick Skylark with a black vinyl roof. His car always had a distinctive odor, an odor I could never place. "What's that smell?" I asked him one day.
"Uh, one of my friends ate a cheesesteak," came his hesitant reply, "with onions."
My uncle played piano. He was the first musician I'd ever seen play live. Although he'd taken lessons since he was a young boy, he rarely played with other musicians. He told me he lacked confidence to play in a band. The world's loss, I thought. He'd play around the house on a regular basis, and I'd sit in amazement as he played Traffic's "Glad," Bob Dylan's "Watching the River Flow," and Leon Russell's take on "Youngblood."
At the urging of my grandmother, he'd also play romantic classical pieces that, although impressive in their technical mastery, showed me a side of my uncle I didn't care to see. My grandmother would weep with joy as he hammered away at the classical music all his childhood lessons were meant to instill in him. Call me close minded, but that Chopin scene simply wasn't half as liberating as when Uncle Joe played "Glad." I loved my Gran like no one else but her requests were my uncle's kryptonite.
Sometimes, beginning around the age of 12, I'd bring records down to our living room, where we had one of those gigantic wooden stereo consoles, as wide as a piano, with built-in, cloth-screened speakers. It was a substantial piece of furniture, holding foot-high reproductions of sculptures representing conquistadors, for god knows what reason. For a brief period conquistadors were in vogue, maybe owing to the popularity of The Man of La Mancha. My first and only basketball hero, Wilt Chamberlain, would end his career as player-coach of an ABA team called the Conquistadors. Lawsuits would prevent Chamberlain from playing with that team, and apathy would prevent him from continuing as a coach. I believe it was exactly at this moment that conquistadors went out of vogue.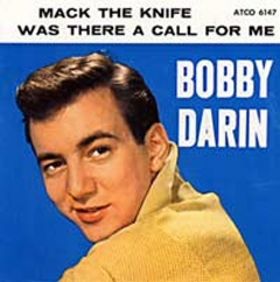 The midsection of my family's stereo console top flipped up to reveal a metal turntable, sunken, on springs. The knobs were big and black. They clicked into place just so. As the tubes warmed up the stereo gave off a pleasing hum and mild fire-hazard odor. When I was little and my Dad was still around he used to play me the Tchaikovsky's "1812 Overture" on that thing. It sounded great, and he'd get lost in the music the way he did over only one other song in the 12 years I knew him: Bobby Darin's take on "Mack the Knife."
I don't think I'll ever know what made my father tick and how those two songs might have explained it. He left me with such a small sample size compared with the musical tastes of most of the important people in my life. I do remember loving to listen to "1812 Overture" with him. The ending, with all those cymbals bashing and cannons firing off, gave me goose bumps. He would get psyched up in anticipation for this part too. We got a charge out of the composition's violent finale.
My father also was a bit of a history buff, and he'd fill me in on the historic significance of the War of 1812 while loading the record and during its quiet parts. I haven't retained an ounce of his history lessons, but looking back maybe our quarterly listening session with that lone Tchaikovsky record was his "guy" way of using music to help channel a more personal line of communication. It's one of a handful of sweet memories I have of the man.
His love for "Mack the Knife," on the other hand, was creepy. As a kid I couldn't tell what that song was about, who this Mack character was, and why anyone cared that he was back in town. I couldn't relate to the jazzy music and frequent modulations. My Dad knew every word of that song and sang along, in a trance. I don't recall ever hearing him sing aloud except for that song. He used to hum and was quite a whistler, but only "Mack the Knife" inspired him to sing. Unlike "1812 Overture" he never tried to impart a history lesson or any other words of wisdom during that song. It was "his" song and his song alone. He'd shush me when it came on. When the song was over I was free to find whatever song I liked on the radio dial.
My Dad never owned a copy of "Mack the Knife" or any other Bobby Darin record. He was content to hear it randomly, on the radio, while calmly driving, ideally on his beloved Route 1. That Tchaikovsky album may have been the only record he took with him when he moved out.