For the last few years I've been picking away at a memoir, of sorts, on my formative life and musical experiences. For my own edification above all else, as well as a possible guidebook to help my sons understand why their dad is weird, I am examining how these experiences and the sounds swirling around me worked together to "save me" from the hazards of childhood, to set me on the path of becoming the man and rock nerd I am today. Suburban kid's excellent Dad Rock thread inspired me to share a current draft of an opening chapter, some of which you may have seen or heard in earlier stages of development.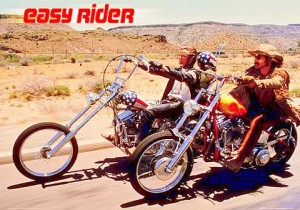 My first music-playing device was a plastic, olive-green record player that was pleasingly textured on the outside, like stucco, nubby upholstery, or Naugahyde. Flip up the top and the plastic was beige—also textured, to better pick up smudges from my dirty hands. The turntable itself was brown, with a brown rubber mat to soften the blow of singles released from the multi-45 stem. I can't remember for sure if the arm was brown or beige, but I remember my shaky hands were always challenged by lifting the arm and dropping the needle onto a specific album track. My beat-to-hell childhood 45s, these days crammed into my original orange vinyl box along with other singles picked up through the years, can attest to this challenge. The cord was a brown 2-pronged affair. I experienced my first electric shock on that cord when I left one of my shaky fingers slipped between the prongs as I plugged it in. Ouch!
I used that record player from the age of 4 or 5, playing "She Loves You" over and over, singing along with my speech-impeded "l" sounds (ie, She wuvs you…), through about age 15, when I'd long mastered consonant sounds. My uncle gave me my first stack of LPs as well as a box of 45s. The LPs included Steppenwolf Live, with that snarling wolf on the cover and Santana's first album, with its sketch of a roaring lion that contained hidden figures and each Carlos Santana guitar solo deliberately articulated with a long, bended note, played high on the neck. He gave me The Band's second album, which to this day is one of my Top 5 favorite albums ever, and about a half dozen Beatles records, including early ones through their then-recent psychedelic period, Sgt. Pepper's and Magical Mystery Tour. A year or two later I got Let It Be and the Beatles Again singles collection, the one with them dourly dressed in black and standing in front of a big door. I didn't know "singles collection" from "proper" release, and thought nothing of the stylistic and sonic differences between "I Should Have Known Better" and the scorching single version of "Revolution." The band members looked their coolest in the mustachioed, sideburned photos of their psychedelic years, so I "updated" my early Beatles' albums, drawing the appropriate whiskers on the lads and the distinctive granny glasses on John.