MB: None of us would have been a natural frontperson for the band, and none of us would have been a prolific songwriter. So the idea of hooking up with a potential frontman and a great songwriter – and of course developed into a fantastic frontman, a great communicator with the audience. So it worked out very well, although it didn't achieve what everybody thought it was going to achieve.
There's a filmmaker in America, called Michael Gramaglia. He made a film about The Ramones called End of the Century. It won a couple of awards, I believe. It's a very good film – I don't mind The Ramones, but you know, they're not the top of my list, but the film is really, really good. The last couple of years he's been making a film about Graham Parker & The Rumour, putting it together, getting old footage. He's been over here [ie, England], interviewing me, interviewing Nick Lowe, interviewing Dave Robinson. He's interviewed Graham, he's interviewed pretty much everybody. The premise of the film is Graham Parker & The Rumour: What Happened? Or What Didn't Happen? Because there was a point when Bruce Springsteen said, "Graham Parker & The Rumour: the only band I'd pay money to go see." We were the critics' favorite and a big draw live, but we never sold the records that went with the rest of it. So it kind of never happened like it was supposed to. That's the angle he's doing it on. I'm still not sure when it's coming out. Hopefully that will be out before too long.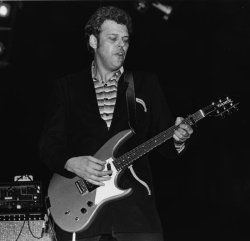 Damn, we never got a chance to discuss who would win the battle of the Hamer guitars: the Rumour, Rockpile, or Cheap Trick!
We split up around 1980, and The Rumour carried on for a bit. In fact we did an American tour, we were employed to be the back-up band for a singer called Garland Jeffreys in which we got to open to promote our Rumour album. It worked out very well, then we broke up. I moved to working with Carlene Carter in her backing band for a couple of years – I had worked a bit with her before. Then that band became Nick Lowe's band and went on through '86-'87. Since then I've been playing with the bands I'm playing with now.
I've done quite a lot of sessions over the years, but I'm not really a session man in the way that a session person is able to be able to turn up and play anything that anybody wants you to play. I can't do that and I have no desire to do that. You want me to play like Jimmy Page, well, then get Jimmy Page. That's not my thing.
RTH: One of my good friends was very excited to hear we'd be talking. We came of age listening to you and Brinsley Schwarz, discussing your guitar dynamic, imagining what you went through…
MB: There are several templates for two guitars working together. There's the classic Beatles template, if you'd like, where you've got an out-and-out rhythm guitar, which is basically a strummer, which most of the time would have been John Lennon, and then you've got a lead guitarist, with a lot less restraint than lead guitarists today, who would be putting in little fills and joining-up bits. Sometimes they'd be playing pretty much the same thing.
Then there's Keith Richards-Brian Jones and Keith Richards-Ronnie Wood now, where Keith describes it as the "ancient art of weaving." They don't do it as lead guitar and rhythm guitar. They do it as both playing whatever and they sort of weave in and out of each other. That's the sort of thing you can do when you've both been playing together for a long time. I don't think any way is right or wrong; it's whatever is appropriate to the set-up of the band and whatever other instruments are playing. If you have two guitars and a keyboard that adds another dimension. If one of the guitars is an acoustic guitar the electric guitar, which is the lead guitar, needs to work around the acoustic, because the acoustic guitar tends to be the center when it's that type of country thing. With Hank Wangford, he plays the acoustic guitar, I play the electric guitar, and we've got a pedal steel player, so again it's all about finding your niche in the overall sound of the band appropriate to kind of music you're playing.
RTH: When people come to you as a sideman – I can see a lot of clear connections among the people you've played with – but is there a Martin Belmont Sound they're expecting? Do they point back to specific recordings you've done over the years?
MB: Yes, I think people know the kind of bands and artists I've played with, and they kind of know what they're gonna get. They're not gonna get any Metallica type of guitar thing. It's not going to be jazz; it's going to be pretty much basic – I just call it rock 'n roll, but it pretty much encompasses a whole lot of things. I think what I'm good at – what I'd like to think I'm good at is playing to the song, to me that's what the best guitarists do. If you look at Scotty Moore, George Harrison, Ry Cooder…they play to the song. They can do flash bits, if they need to; they can do hardly anything, if the song requires hardly anything. The song is the starting point. [Belmont slips into what I imagine is his guitar teacher tone.] You play to the song. You don't play the song as an excuse to get in a flash solo. If the song requires a flash solo, then you can put one in. You can improvise, if it's that kind of song. Or if it's an instrumental break you can have a very short, pithy solo: just straight to the point, four bars, and out.
RTH: Were the separate Rumour albums always part of the plan?