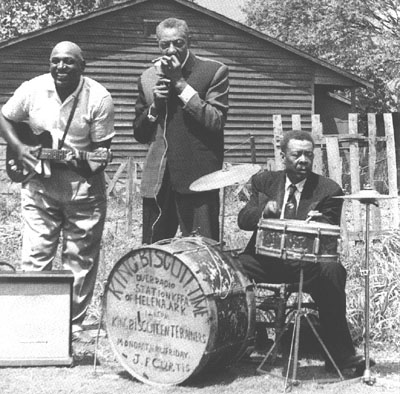 RTH: I have one more memory lane-type question for you. I've told you that I grew up listening to your records with my friends, and the records of your colleagues. There used to be a syndicated radio show, called King Biscuit Flower Hour. I think it broadcast Sunday nights in Philadelphia. I would tune it in every Sunday in my bedroom. They would often have bands I liked, instead of Foreigner and Journey and stuff I couldn't stand. One night I was very excited; it was going to be Elvis Costello & The Attractions and…
MB: It was me!
RTH: It was you! Everything came together that night, because I have one of my favorite guitarists playing with another of my favorite musicians. And it was fantastic.
MB: I'll tell you how that came about. I obviously knew Elvis and The Attractions because we were all part of that same…thing. They were scheduled to do a 3- or 4-week European tour, and a day or two before the tour Steve Nieve, the keyboard player, had got in a horrible car wreck. They couldn't cancel the tour and they couldn't find another keyboard player that could do what he did, so they said, "Let's get Martin in. We know he's a good bloke, and he'll be able to play the songs." I had to learn hundreds of songs, and Elvis' songs, some of them are quite simple except but he's got a habit of the second verse being not quite the same as the first. Then the third verse is not quite the same as either, it's got a few extra bars or lines.
So I did that, and it was at the end of that tour that we did that gig at a little pub in London, the Hope & Anchor. I used to live there. That's the pub that Dave Robinson had the 8-track studio where we formed The Rumour. It was recorded there for King Biscuit Flower Hour. So yeah, I had a cassette of that – I probably still have the cassette, but I was never able to transfer it. It was great, because he used to throw in covers. He did the Sonny Boy Williamson song, "Help Me." We probably did the Elvis [Presley] song "Little Sister"…
RTH: "Don't Look Back," The Temptations' song.
MB: Yeah, "Walk and Don't Look Back."
I end the proper portion of our chat by reverting to something probably worse than the Chris Farley character, describing in a bit of detal my band's fascination with that show and how we still point back to it as a template for how we wish we could sound. Belmont asks if I can burn him a copy of my digitized cassette tape in return for a proper CD of The Guest List, complete with the 12-page booklet!
Finally: Rock Town Hall's first audio Dugout Chatter…after the jump!