I just finished watching the enjoyable and nostalgic documentary "Somewhere You Feel Free" about the making of Tom Petty's Wildflowers. Some mindless related web surfing led me to this photo, supposedly from 1976, which was followed by more trails leading to various subjects like Dwight Twilley and Phil Seymour (did you ever notice the striking similarity between the juicy guitar riffs of Twilley's "I'm on Fire" and Petty's "Strangered in the Night"?), Leon Russell and Denny Cordell (Shelter Records), Tom Leadon (Mudcrutch).
It's obvious what set me off searching for more information: Who the heck is the extra dude in this photo, standing next to Petty and wearing the perhaps silk Japanese baseball jacket or kimono? It sure looks like an official band photoshoot, but it could be an interloper, guest, or studio collaborator. I found no answers (it's surely none of the above-mentioned people) and no mention of there ever having briefly been a 5th Heartbreaker.
Townspeople, can we figure this out? There's probably a simple answer rather than a big rock mystery.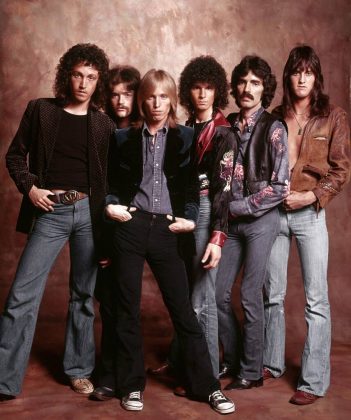 (L-R: Mike Campbell, Benmont Tench, Tom Petty, ?????, Ron Blair, Stan Lynch)
(Update — see later comment regarding this newly found photo.)