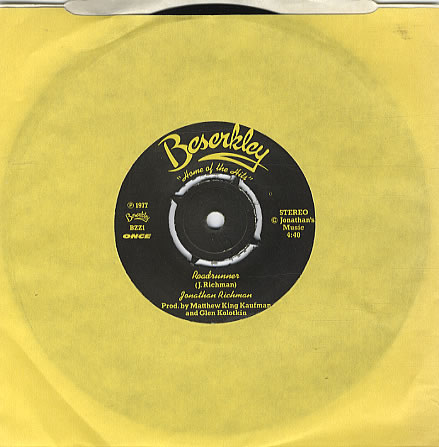 Last week, I was in England visiting friends and family, and during my journeys several songs came to mind relating to the places I was traveling. You may be able to imagine what was going through my head at Baker Street Station, Waterloo Station, Victoria Station, and along The Strand.
On my flight back to the US, I picked up a copy of The Guardian, and came across an article that also referenced music and place, "Beltway Belter."
"In 2007 Laura Barton wrote an ode to a Jonathan Richman song. Inspired, Massachusetts now wants it as a state anthem. What is it about Roadrunner?"
In the article, Ms. Barton mentions about her previous newspaper piece, for which she traveled along good ol' Rt. 128 to visit the locations mentioned in the song. Apparently, the article has since spurred a bill that "seeks to anoint Roadrunner the official rock song of Massachusetts," and if passed, will join the other official Massachusetts songs (a folk song, a glee club song, a polka, and The Official Song).
So tonight I did a little web research and found the original article, a pleasant foray into music obsession that I believe many of us can relate to: http://www.guardian.co.uk/music/2007/jul/20/popandrock5
But wait, there's more. If you thought Jonathan Richman had the nomination for Official Rock Song of Massachusetts wrapped up, you can Dream On: http://www.guardian.co.uk/music/2013/feb/27/roadrunner-massachusetts-dream-on-aerosmith
What do you think? I'm reaching out to you, bostonhistorian, misterioso, diskojoe, and others, to help us understand, weigh the evidence, and sort out with this controversy of Official Rock Song of Massachusetts.
And while you all are mulling over all this, does your state have an official song? Apparently, Oklahoma locked on to the Flaming Lips' "Do You Realize" in 2009; that's a lovely song, but is it worthy enough to be official? Does it match Ohio's "Hang On Sloopy"? Or Washington's "Louie, Louie"?
RTH, help us determine, ONCE AND FOR ALL, what should Massachusett's Official Rock Song be, AND what is the best official state song?